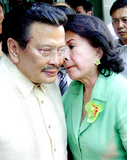 By: Gladstone A. Cuarteros


Political Reform team / IPD

September 27, 2007


In September 12, 2007 the Sandiganbayan convicted former President Joseph 'Erap' Ejercito Estrada of plunder and sentenced him to forty years impr
ison
ment and ordered the forfeiture in favor of the government the almost one billion pesos worth of bank deposits and assets. The verdict is the culmination of more than six years of court proceedings that started after Estrada was ousted as a result of the EDSA People Power II in January 2001.

(photo:
Jailed former Philippine president ... www.taipeitimes.com

Estrada was formally charged with four violations of plunder but it was in two offenses that evidence showed his guilt beyond reasonable doubt. Specifically he was convicted of plunder for taking P189.7 million in commissions from
the purchase of Belle Corp. shares by the Government Service Insurance System and the Social Security System, and P545 million
in payoffs from jueteng lords. He was cleared though of diverting tobacco excise taxes for personal use and maintaining a bank account under a false name - Jose Velarde. Another case of perjury for allegedly misdeclaring his Statement of Assets and
Liabilities (SAL) was dismissed.


(photo:
members.aol.com/
ernestojlaput/edsa2.jpg)
Yet after the verdict was read and Estrada was flown back to his Tanay resthouse the atmosphere lacked the jubilation that usually c
omes with big victories. It is without the celebrations, fun fare and most of all sense of fulfillment displayed at EDSA 2. Key personalities of EDSA 2 have either became less interested with the outcome of these cases or have expressed tacit support and sympathy to Estrada. And on the part of the beneficiary of EDSA 2 – Gloria Macapagal Arroyo herself she was more concern on potential political backlash of the guilty verdict. Just two weeks into the decision of the Sandiganbayan, she is now seriously considering giving Estrada an absolute pardon. An offer that will exonerate Estrada of any accountability and will allow him to keep his supposedly forfeited bank accounts and assets.


I beg to disagree with some journalist who contend that the question of pardon
rest solely with GMA and Estrada. That it is their prerogative, whether GMA offers either a conditional or absolute pardon and whether Erap will accept the offer in return. Such position will inappropriately reduce the plunder charges as personal fight between the two presidents. And what does it imply? That in 2001 GMA and her allies then, many of whom have already deserted her, have conspired to oust Erap and grab power for themselves? If that is so, then Erap is justified in claiming that the Special Division of the Sandiganbayan that tried his cases was created only to convict him.


Secondly leaving to GMA and Estrada the question of giving pardon to the latter in effect removes completely the people from the picture. As if the multitudes who trooped to EDSA spending days and nights on the streets did not happen. How about them who have made political judg
ement on Estrada at that time?


It is just unfortunate that the morals and ethics in governance have deteriorated after EDSA 2 . Two important principles emphasized the people power. To the dismay of the large section of EDSA 2 forces, GMA did not live up to the ideals they fought for in January 2001. As a consequences her supporters from the middle class and professionals felt betrayed. That instead of lessening graft and corruption in government what transpired was a series of corruption scandals, turning the present administration to be more corrupt than the one it replaced. Among the most phenomenally notorious corruption cases are the Macapagal Boulevard, NAIA Terminal 3, Jose Pidal, North Rail Project, Hello Garci and now the ZTE-NBN contract. It comes no surprise that Comelec Chairman Benjamin Abalos and his friend First Gentleman Mike Arroyo is now at the center of the ZTE-NBN scandal. At a time when Abalos should have been busy working for a clean, honest and credible May 2007 el
ections being the head of Comelec, he even had time brokering the ZTE-NBN contract.


With seeming impunity and brazen abuses of the administration the national significance of Erap conviction have been lessened. The people are becoming insensitive to daily news of corruptionas it became too rampant for them to fathom. 'What is new' is the common reply. They rather focused themselves in their own more important struggle for daily survival. As GMA continues more people believe that she and her husband Mike Arroyo are involved in corrupt practices. Even worse compared to Estrada. Figures from two recent of SWS surveys conducted just before the promulgation by the Sandiganbayan is n evidence to this. First,
in Metro Manila and neighboring provinces, 72% of those surveyed agree to the statement that 'under the current administration corruption increased'. Those who believe GMA and Mike Arroy are involved in corruption is a whopping 77% and 71% respectively, while only 31% believe Estrada was involved in corruption. The second survey was released on the day of the promulgation where a majority of the people nationwide expected an acquittal of Estrada. This sentiment is strongest in Mindanao (63%), balance Luzon (57%) and Metro Manila (56%). Why have we come into this? It is a question that GMA and her allies should answer more than anyone else.


Indeed much have changed since Estrada left Malacanang in 2001. Politicians and groups who played key roles in EDSA 2 have already either distanced themselves from the GMA administration or have altogether join
ed the opposition. For example Sen. Manny Villar who have was instrumental in impeaching Estrada in 2000 is now a collaborating politically with Estrada. In fact Estrada's support allowed Villar to retain the Presidency of the Senate. Estrada's son Sen Jinggoy Estrada is also Villar's Senate President Pre-Tempore and if reports are true, will be Villar's running-mate come 2010. Other politicians are equally interested for Estrada's endorsement in the next election. Though is yet to declare his intentions but increasingly Sen. Mar Roxas is seen courting the support of the former President. His frequent visit to Estrada in Tanay, the most recent was few days after the Sandigabayan verdict, says it al
l.

Responses from civil society groups after the verdict are equally less encouraging. It
has been a near-amenic response, so to speak. PlunderWatch, a group in the radical left which was among the complainants in the plunder case said days ahead of the promulgation that they are no longer interested if Estrada is found guilty or not. A the more recent grouping of leftist and progressives - Laban ng Masa (LnM) smacked on the

'hypocrisy of the GMA regime'

and instead argued that 'GMA and her cohorts of plunderers and murderers' be brought to justice. Although on the whole Laban ng Masa attacked the bankruptcy of the current system dominated by the economic elites and traditional politicians, they ended up sounding pro-Estrada. LnM then called for the prosecution of people involved in the Hello Garci scandal, Jose Pidal, JocJoc Bolante's fertilizer scam and the ZTE-NBN. The Black and White Movement (BnW) is formation of professionals and middle forces organized after Hello Garci scandal. Some of their members are former supporters of GMA. In their statement BnW respected and welcomed the ruling of Sandiganbayan. Though a little bit subdued it lamented on the failure of GMA in pursuing cases against Nani Perez, Jose Pidal, Jocjoc Bolante and the stonewalling of the administration through E.O 464 and Memorandum Order 108.


While civil society groups and politicians are justified in either abandoning or distancing themselves from GMA administration as it turned out to be worse than Erap's, but their near-anemic response to the guilty verdict diminishes the value of exacting accountability from Estrada. And consequently they are aiding GMA into pardoning Estrada and totally neglecting EDSA 2.
#####